THE HUMAN BRAIN IS HARDWIRED
FOR EXPLOSIVE VIOLENCE.

RAGE HAPPENS.
LEVIATHAN LAB's DEVELOPMENTAL WORKSHOP PRODUCTION
OF A PROVOCATIVE NEW PLAY
February 23-March 11, 2018
TRIGGER
By Sam Chanse
IATI Theater
64 E 4th Street
When Lee recognizes childhood friend Allie in a video of a racist rant that goes viral, Lee's sister, Grace, urges her to reach out. As Lee becomes uncomfortably reacquainted with Allie, a deteriorating domestic situation and sudden crisis explode the world around her. In a time of heightened fear and anger, how can Lee connect with others, and contend with her own rage? A play about this country and this moment, the fury around and within us, and what happens next. Directed by Flordelino Lagundino.
Trigger was workshopped as part of the Jerry A. Tishman Playwrights Creativity Fund, a program of New Dramatists.
Trigger was also developed through a SPACE at Ryder Farm Creative Residency and a Rita Goldberg Playwrights' Workshop Fellowship at the Lark, and with support from Ars Nova's Play Group and the Ma-Yi Writers' Lab.
This developmental workshop production of Trigger was made possible by generous support from the Lower Manhattan Cultural Council Creative Engagement Fund, and the Alliance of Residence Theatres-New York Space Grant.
Performance Schedule
Friday, February 23 @ 7:30pm
Saturday, February 24 @ 7:30pm
Sunday, February 25 @ 2pm

Wednesday, February 28 @ 7:30pm
Thursday, March 1 @ 7:30pm - Conversation with Ashley Teague from Notch Theatre - www.notchteatre.org. How is theater a conversation? How can theater be used to heal rifts in our community and support productive dialogue?
Friday, March 2 @ 7:30pm
Saturday, March 3 @ 7:30pm - Opening Night Performance & Celebration - (Opening night celebration begins at 6:30pm)
Sunday, March 4 @ 2pm

Wednesday, March 7 @ 7:30pm
Thursday, March 8 @ 7:30pm
Friday, March 9 @ 7:30pm
Saturday, March 10 @ 2pm & 7:30pm
Sunday, March 11 @ 2pm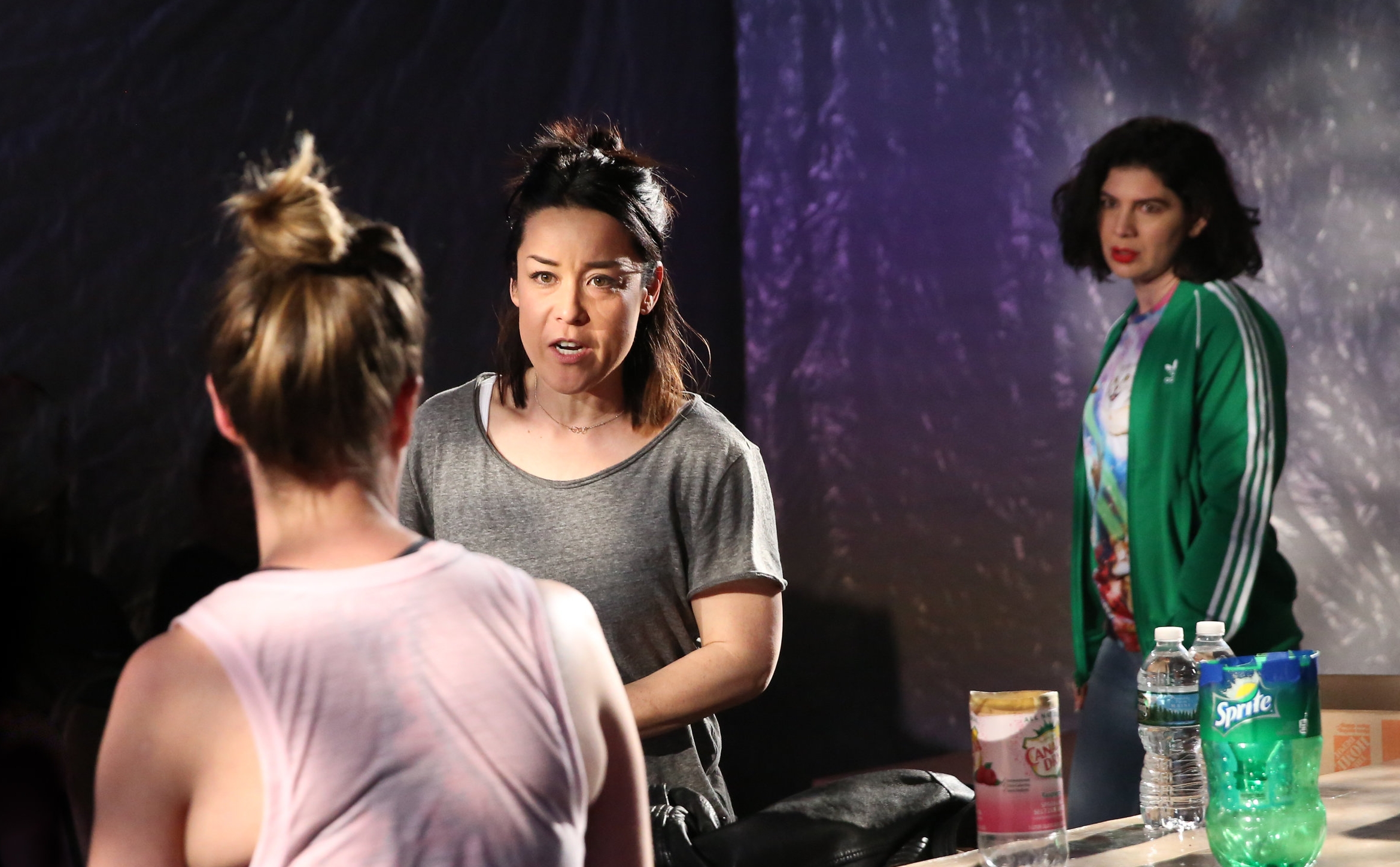 Cast
Anna Ishida* (Lee) Regionally, Anna has performed Berkeley Repertory Theater (It Can't Happen Here), American Conservatory Theatre (Mr. Burns: a post-electric play), TheatreWorks (Water by the Spoonful), and and numerous productions the in San Francisco Bay Area. She has toured regionally & internationally with Beowulf —A Thousand Years of Baggage (Jason Craig/Dave Malloy), which was featured in the New Yorker's "Top 12 Best Off-Broadway Shows" (2009) and was the recipient of an Edinburgh Fringe Herald Angel Award. She stars in San Francisco director H. P. Mendoza's critically acclaimed experimental horror film I Am a Ghost. www.annaishida.com.
Polly Lee* (Allie) is an award winning actress seen most recently on The Americans. She has dedicated her career to new American plays and as such has performed in over 20 premieres here in NYC and across the country. She has helped develop work for hundreds of playwrights (most recently Sam Chanse, Barbara Hammond, Ken Urban and Mia Chung) and is a proud recipient of New Dramatists' Charles Bowden Award. NY Theatre includes JACK, Lincoln Center Theater, Ensemble Studio Theater, New Georges, Clubbed Thumb, and Little Lord among others. Regional: Merrimack Repertory Theatre, ART, Yale Rep., La Jolla Playhouse, Humana Festival, Passage Theatre, O'Neill Playwrights Conference, Gloucester Stage Co., McCarter Theatre, Wilma Theatre, Repertory Theatre of St. Louis, Studio Arena and more. Film & TV: Gotham, Baggage (Extraordinary Alien Prod) Butterflies of Bill Baker (I Laugh I Cry Prods), The Post, The Americans, Younger, The Blacklist, Looming Tower, Chicago Med. Polly has narrated many audio-books and is a proud member of EST, Rising Phoenix Rep., AEA and an affiliated artist of Clubbed Thumb. In her newfound literary capacity she has read and evaluated plays for SPACE on Ryder Farm (where she assists curator, John Baker), Ensemble Studio Theatre's Marathon, The Princess Grace Foundation, New Dramatists' Admissions Committee, the Lark's Lit Wing, Jewish Plays Project and Playwright's Realm.

Dominique Brillon (Grace) was most recently seen in Park Plays (Queens Theatre). Select NYC and regional credits include: Every 28 Hours (Labyrinth Theater Co), Our Town (Long Wharf Theatre), A Midsummer Night's Dream (FoxWolf), The Mysteries (The Flea). Select workshops: Road Trip Play by Lauren Yee (The Lark), The Climb by C.A. Johnson (59E59), The Magnificent Revengers by Matt Cox (Tilted Windmills), The Place We Built by Sarah Gancher (Playwright's Realm), 10 out of 12 by Anne Washburn (Soho Rep). She is also an actor with Story Pirates. B.A. UC Berkeley. dominiquebrillon.com
Christina Pumariega* (Gods/Server/Eunice) has worked on Broadway, Off and Off-off Broadway and regionally across the US. Recent television and film appearances include Maggie Black, Nunsense, and a recurring role on Bloodline(Netflix). She was nominated for a 2017 Connecticut Critics Circle Award and holds an MFA from NYU's Graduate Acting Program. christinapumariega.com
Ron Domingo* (Koji) is an OBIE Award-winning actor who has performed for stage, film & television. A veteran stage actor, he has worked with many respected theater companies including Manhattan Theater Club, Long Wharf Theatre, and the Tricycle Theatre in London. Mr. Domingo's TV credits include roles on The Mysteries of Laura (NBC); Blue Bloods (CBS); Person of Interest (CBS); Pan Am (NBC); Rescue Me (CBS); and Law & Order, SVU, CI and Trial By Jury (NBC). Film credits include Tenderness, Robot Stories, The Motel and the lead role in Slow Jam King. Ron is a proud member of Actors Equity and SAG-AFTRA. rondomingo.com
Creative Team & Production Staff
Sam Chanse Playwright
Flordelino Lagundino Director
Deb O Set Designer/Properties Designer
Nikki Delhomme Costume Designer
Christina Watanabe Lighting Designer
Matt Otto Sound Designer
Sean Michael Bradley Fight Choreographer
Bob Kelly Music Consultant
Donatella Galella Dramaturg
Louisa Pough Production Manager
Emma Ruopp Stage Manager
Roxanne Goodby Assistant Stage Manager
Ashley Nicklas Production Assistant
Jessica Leylavergne Marketing Consultant
JB Douglas Graphic Designer
Ariel Estrada Marketing Graphic Design
Silverman Solution Publicity Consultant
Ariel Estrada, Flordelino Lagundino Producers
Sam Chanse (Playwright) Sam Chanse's plays include Trigger, The Opportunities of Extinction, The Other Instinct, Fruiting Bodies, What you are now, gilgamesh & the mosquito (with composer and collaborator Bob Kelly), Lobsters Live Forever (with Bob Kelly), and Lydia's Funeral Video. She is a resident of New Dramatists, a Cherry Lane Mentor Project Fellow, and a member of the Ma-Yi Writers' Lab. A former Rita Goldberg Playwrights' Workshop Fellow at The Lark and Sundance/Ucross Playwright Fellow, MacDowell Fellow, and Playwrights Realm Writing Fellow, she has also received residencies from Djerassi, SPACE at Ryder Farm, Tofte Lake Center, and the Lark. Her work has been recognized by The Kilroys (The Opportunities of Extinction: 2017 List; Fruiting Bodies: 2015 List; The Other Instinct: 2017 & 2016 Honorable Mention), and commissions include Ensemble Studio Theatre/Sloan, Ma-Yi/the Flea, Second Generation, Leviathan Lab, and the San Francisco Arts Commission. Her first solo play, Lydia's Funeral Video, is published by Kaya Press. She is an alumna of Ars Nova's Play Group, the Lark's New York Stage & Film Vassar Retreat, Meeting of the Minds, and Playground, and the Civilians R&D Group; her work has also been developed with The Yale Institute for Music Theatre, The Claque, Labyrinth Theater, Ars Nova's ANT Fest, Stage Left, Bindlestiff Studio, Asian American Theater Company, and the New York International Fringe Festival. Upcoming productions include The Opportunities of Extinction with Cherry Lane Theatre's Mentor Project in March/April 2018 and with Broken Nose Theatre in summer 2018. More info: samchanse.com.
Nikki Delhomme (Costume Designer) Nikki is a Brooklyn resident and Texas native. Her designs have recently been presented at People's Light Theatre, Bedlam Theatre Ensemble, Kimmel Center, Yale Repertory, Shakespeare Theatre of New Jersey, Disney's RedCat, Trinity Repertory, Amherst College, CalArts University, The Flea, Redhouse Theatre, Teatro Vision, A Noise Within, Maltz Jupiter Theatre, Los Angeles Theatre Center, Piven Theatre Ensemble, and Princeton University, amongst many others. She assisted on True Blood (HBO), and Party Down (Starz). MFA Yale, BFA Carnegie Mellon, proud member of USA829. nikkidelhomme.com.
Donatella Galella (Dramaturg) is an Assistant Professor of Theatre at the University of California, Riverside. Her manuscript-in-progress provides a critical history of Arena Stage and what it means to be non-profit, black, and U.S. American. She is the dramaturg-in-residence of Leviathan Lab, for which she has worked on Lobsters Live Forever, ESSPY, and Ghost Stories, among other plays. She recently dramaturged a workshop of Princess Ten Ten and the Dark Skies, a children's musical about a gender non-conforming Asian superhero princess.
Flordelino Lagundino (Director) is the artistic director of Leviathan Lab and company member of Theater Akimbo. He is a 2017 Drama League NY Directing Fellow, and his directing credits include: Sweeney Todd, Doubt, Yellowman, Cedar House, and Animals Out of Paper (Perseverance Theatre); Flipzoids, True West, and Shakespeare's R&J (Generator Theater Company); Sweeney Todd (Juneau Symphony); in the Next Room (or the vibrator play), Much Ado About Nothing, Stone Cold Dead Serious, In the Blood at (Brown University/Trinity Repertory Company). As an actor, Flordelino's credits include: Vietgone (Mixed Blood Theatre); Measure for Measure (The Old Globe); Camino Real (The Shakespeare Theatre Company); Willy Wonka (The Kennedy Center); The Long Season, Yeast Nation, Hamlet, Twelfth Night, The Importance of Being Earnest, Hair, The Who's Tommy, Noises Off, The Last Five Years, The Inspector General (Perseverance Theatre); Invisible City 14th Street(Woolly Mammoth Theatre Company); Hair (ZACH Theatre); understudy for Anthony and Cleopatra, Secret Love in Peach Blossom Land, and Guys and Dolls (Oregon Shakespeare Festival). He was founding producer of Romp of Otters, the graduate theater company for the Department of Theater and Performing Arts at Brown University, where produced fourteen shows in collaboration with AS220 and directed a new musical. Additionally, Flordelino was an Oregon Shakespeare Festival FAIR Fellow and an Arena Stage Allen Lee Hughes Fellow. He is a graduate of the MFA directing program at Brown University/Trinity Repertory Company and the MFA acting program at University of Texas at Austin. www.flordelinolagundino.com.
Deb O (Set/Properties Designer) Selected set and costume designs: This Is Reading (Reading, PA) Ready Set Go: Race (Falconworks, NY), Airness (Humana Fest, KY) Selkie (Z Space, CA) Thieves (El Portal Theater, LA) Sweeney Todd (Perseverance Theater, Alaska) Christmas Carol and Middletown (Trinity Rep, RI) Light: A Dark Comedy (New Victory, NY) Rite Of Spring (Kimmel Center, PA) The Seagull, Ivanov, Platonov, Uncle Vanya (Lake Lucille, NY) The Nature of Captivity (Mabou Mines, PS 122) Salsalandia (La Jolla Playhouse, CA) Savannah Disputation (The Old Globe, CA) The Lacy Project (Premiere Yale) Jihad the Musical (Edinburgh Festival) The Mistakes Madeline Made (Yale Rep). She received her MFA from Yale. She teaches design at NYU- Tisch/PHTS. See more of her work at www.debo.nyc.
Matt Otto (Sound Designer) Abigail's Party, Muswell Hill, Thing with Feathers, Enemy of the People - Barrow Group (NYC), Arden Everywhere/As You Like It - LDK Productions (NYC), Cadaver of Synod - New York Musical Festival (NYC), Nollywood Dreams, Esai's Table and King Lear – Cherry Lane (NYC), Much Ado About Nothing - Shakespeare Exchange (NYC), Empathitrax - Colt Couer (NYC), Alamat: Filipino Gold - Ma-Yi Theater Company (NYC), Our Town and Love Labous Lost - Hudson Valley Shakespeare Festival (NY) Timon of Athens, Folger Theater, (DC), James and the Giant Peach – Lyric Theatre of Oklahoma, (OK), Stone Cold Dead Serious and Vibrator Play - Brown/Trinity Rep (RI), Stones in His Pockets - Yale Rep (CT), Johnny Meister and the Stitch - Solas Nua (DC and Helen Hayes Award nomination.) MFA - Yale School of Drama. www.mattotto.co
Christina Watanabe (Lighting Designer) is a New York City based designer for theatre, dance, music, and events. Recent: The Pool Plays (Flea), Arden/Everywhere (Baruch), Small World: a fantasia (59E59), Neighbors: A Fair Trade Agreement (Intar), Cobb (Penguin Rep), Daniel's Husband (Primary Stages/Cherry Lane), I Will Look Forward To This Later (New Ohio), Unseamly (Urban Stages), Se Llama Cristina (Intar), Gruesome Playground Injuries (FITR), Stealing Time (Gelsey Kirkland Ballet), Machinal, The Killer, Big Love, and RENT (Post Theatre Company), Les Miserables (Bristol Valley Theatre). Academia: NYU's Tisch School of the Arts (The Tempest, Macbeth, Violet) and Yale Dramatic Association (A Midsummer Night's Dream). Other design work includes cabaret, events, and Ralph Lauren's Madison Avenue windows. Touring: Shen Wei Dance Arts, Jonah Bokaer, and So Percussion. Lincoln Center Festival (2013, 2015, 2016). Visiting Professor: NYU Tisch. Guest speaker: The League of Professional Theatre Women "A Discussion: Designers and Directors". MFA: NYU Tisch. Member USA 829. www.StarryEyedLighting.com.
Emma Ruopp (Production Stage Manager) is the Production Manager for Victory Theatrical at The Players Theatre. Recent shows include: Cinderella, Frankenstein, Treasure Island, And Then There Were None, The Little Mermaid and A Christmas Carol. Other select credits: R.U.R. (Battle Damage), Stix (Araca Festival, world premiere); Happy Hour (Monica Bill Barnes); You Love that I'm NOT Your Wife (New York premiere); Dadabomb (Giants Are Small); It Came From the Neo-Futurarium IX (Neo-Futurists); Love Letters to Nobody (Trans Theatre Festival); I Am Not I, Colorblind'd (FringeNYC); A Light in the Dark (Planet Connections Festival); The Gulf (Samuel French OOB winner). She is a founding member of Battle Damage Theater.
Roxanne Goodby (Assistant Stage Manager) has her BFA in Theater design and production at Brooklyn College. She's so excited to be working on this wonderful project. She works as a stage manager and prop designer. She is also Props Master at the Gallery Players. Past credits include: Aspen Opera Center, Des Moines Metro Opera and freelancing around NYC . Thanks mom for letting me follow my Dreams.
Louisa Pough (Production Manager) Selected credits: A Strange Loop; Bastard Jones, Stoopdreamer (the cell); 17 Again; Dust Can't Kill Me (NYMF); I'm Looking for Helen Twelvetrees; Pirates of Penzance (Encores, NYCC); Bandstand; Angelina Ballerina Holiday (Vital, NYC & Tour); Bureau of Missing Persons; Offending the Audience, 44 Plays for 44 Presidents,(Muhlenberg); Macbeth (Pulse). Thank you to Emma, Roxanne, Ariel, Flordelino, Freddy, Petrea, JK Meowling my gracious family, and my glorious friends for keeping me sane and smiling.
Ashley J. Nickas (Production Assistant/Run Crew) is honored to be part of the Trigger team. Recently, Ashley was production stage manager of Rosemary and Time at Paradise Factory. She also was the touring stage manager for Moonglow Productions' Secret Comedy of Women: Girls Only. Some of Ashley's other credits include being the Stage Management Intern for the Broadway company of Wicked, Technical Manager for Planet Connection's 2016 Theatre Festival, Production Stage Manager for Pimm's Mission with Oberon Theatre Ensemble, and Event Stage Manager at Busch Gardens in Williamsburg, VA. She is a proud member of Actors' Equity Association. ashleynickas.com
Ariel Estrada (Producer) is an actor, singer, arts advocate, producer, and Founder & Board Secretary of Leviathan Lab. As an actor and singer, Ariel has performed on television, film, commercials, industrials, new media, and on, Off, and Off-Off Broadway. As an arts advocate, he is the Manager of Communications & Community Engagement for the Asian American Arts Alliance, and a longtime member of Actors' Equity Association's Equal Employment Opportunity Committee. He is a graduate of The Broadway League's Commercial Theater Institute Emerging Producer Program, as well as a graduate of the MFA in Acting Program from the University of Washington. As a freelance grant writer, he has raised over $100K in funding for small, not-for-profit arts groups. Ariel is also an accomplished Fortune 500 and Inc. 5000 level communications designer.
Production Sponsors
Leviathan Lab's 2018 activities, including TRIGGER by Sam Chanse, are made possible in part with public funds from Creative Engagement / Creative Learning, supported by the New York City Department of Cultural Affairs in partnership with the City Council and the New York State Council on the Arts with the support of Governor Andrew Cuomo and administered by Lower Manhattan Cultural Council. Lower Manhattan Cultural Council empowers artists by providing them with networks, resources, and support, to create vibrant, sustainable communities in Lower Manhattan and beyond.

Subsidized studio space provided by the A.R.T./New York Creative Space Grant, supported by the Andrew W. Mellon Foundation.
The Alliance of Resident Theatres/New York is the service and advocacy organization for New York City's nonprofit theatre community. Founded in 1972, A.R.T./New York assists over 380 member theatres in managing their theatre companies effectively so they may realize their rich artistic visions and serve their diverse audiences well. Over the years, A.R.T./New York has earned a reputation as a leader in providing progressive services to our members - from shared office and rehearsal spaces, to the nation's only revolving loan fund for real estate, to technical assistance programs for emerging theatres—which have made our organization an expert in the needs of the New York City nonprofit theatre community.
*Denotes Equity Member appearing with permission of Actors' Equity Association without benefit of an Equity contract in this Off-Off Broadway production. Leviathan Lab's TRIGGER by Sam Chanse is an AEA-approved showcase production.
Actors' Equity Association ("Equity"), founded in 1913, is the U.S. labor union that represents more than 51,000 actors and stage managers. Equity fosters the art of live theatre as an essential component of society and advances the careers of its members by negotiating wages, improving working conditions and providing a wide range of benefits, including health and pension plans. Actors' Equity is a member of the AFL-CIO and is affiliated with FIA, an international organization of performing arts unions. www.actorsequity.org #EquityWorks


Beer lovingly provided by Brooklyn Brewery.
The Brooklyn Brewery hereby declares to take the utmost care in creating deliciously inventive beer using the best ingredients and traditional methods. Oh, and we also might invent a method of our own or collaborate with a friend from elsewhere in the drinks or culinary world too. It wouldn't be the first time. Guys, we want to make great beer and have fun doing it. What's with the 3rd degree? brooklynbrewery.com
Wine provided by Windsor Wine Merchants.
We offer a diverse selection of hand picked wines and spirits at affordable prices. Our emphasis is on high quality, small producers who offer honest and authentic products. We have a large selection of organic, sustainable, and biodynamically produced wines. windsorwinemerchants.com